Snorkelling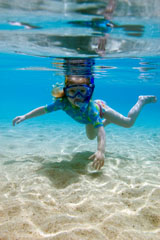 Snorkelling is a fun way to learn new water skills and build up confidence in the water for all the family. It enables you to learn safe water skills for snorkelling while on holiday, or if you spend a day on the beach. It's also a great introduction to water sports and can lead on to more adventurous activities such as Scuba Diving.
Snorkelling qualifications are run through the British Sub-Aqua Club (BSAC) training programme. The BSAC is the National governing body for Snorkelling and Scuba Diving and has branches all over the country and also worldwide. Through local BSAC clubs such as ours you can enjoy a full range of training and development in all aspects of Snorkelling and Scuba Diving.
The basic equipment required for snorkelling is just a Mask, Fins & Snorkel. We can provide loan equipment for you to start with in the swimming pool, or if you enjoy the activities and are interested in having your own equipment these items can be purchased from several local Dive shops or online.
To start snorkelling we offer a 6 week introduction, where you will learn basic techniques such as use of the basic equipment, how to fin, how to use the mask and clear your snorkel. Once this period has been completed you can join BSAC and progress to the more advanced qualifications which can eventually lead to full open water snorkelling. For more details on the range of snorkelling qualifications please see the Snorkelling qualifications page.